I hope you all had a wonderful weekend!  I've always been a total freak dork about handwriting, so I was really excited when Joelle announced this link-up!  You can see my answers to the prompts below.
I forgot to write the song on there- but it's from The Muppets.  I couldn't decide on a song or a quote, so when it came on my Pandora station I decided to go with it.  So don't worry, it's not my favorite of all time or anything, but… it does put a giant smile on my face.  I'm kind of obsessed with that movie.
Do you like to write things by hand?  Tell me in the comments, and then go join the link-up!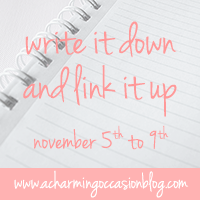 Oh!  You might notice that I made some much needed tweaks here over the weekend.  My blog should look much better on mobile devices now, and I've updated my sidebar and footer widgets.  So if you're viewing this in a reader, come on over!